Checkerspot Events & Specials
Get notified on our weekly specials and beer events!
TRIVIA: EVERY THURSDAY @ 8 PM
Greg's Shitty Trivia will be here every Thursday. Games start at 8 PM. Tables and chairs are first-come, first-served.
Stay tuned to Checkerspot's Facebook or Instagram each week to see whether it's inside or outside.
For more info, visit www.GregsShittyTrivia.com.
SATURDAY JULY 31st @ 8 PM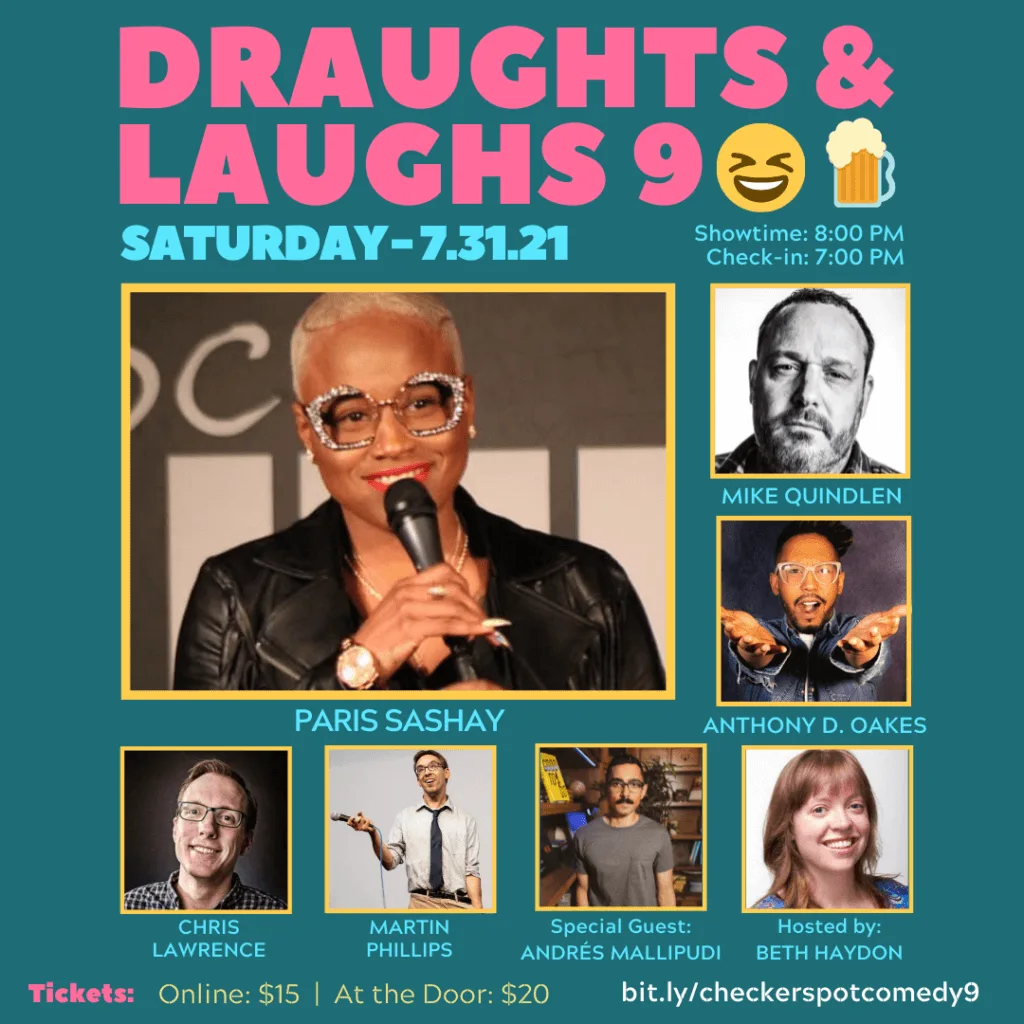 Join us for our popular outdoor comedy series: Draughts & Laughs 9–South Baltimore's best outdoor, socially distant, stand-up comedy show.
Our headliner is the hilarious Paris Sashay, making her way from NYC.
Saturday night's features include: Anthony D. Oakes, Mike Quindlen, Chris Lawrence, and Martin Phillips.
Our special guest will be Andrés Mallipudi.
Draughts and Laughs 9 will be hosted by Beth Haydon.
Tickets are $15 in advance (until 3 PM the day of the show) or can be purchased at the door for $20.*
The show will take place outside of the brewery. Be sure to bring your own chairs (and tables if you'd like). We will be practicing social distancing!
Show time is 8 PM. Show seating will begin at 7 PM. If you'd like to come earlier, the brewery opens at noon!
Masks are optional inside the taproom. Free street parking available.
*All sales are final and refunds will only be issued if the event is cancelled.
COVID UPDATES - OPEN AT 100%
Indoor seating is now available at 100% capacity on the 1st & 2nd floors and outside in the beer garden in the parking lot. Facemasks are no longer required indoors.
We are dog friendly (must be leashed) and kid friendly (children must be with an adult). No dogs allowed on the 2nd floor.
If you'd like to host an event at Checkerspot, please contact Denis at denis@checkerspotbrewing.com.
We're proud to bring you an array of small-batch, thoughtfully crafted beers–inspired by nature, but served right here in Baltimore, the city we love.
The Baltimore Checkerspot is the Maryland state butterfly, which embodies our belief that without local appreciation, nature, and quality ingredients, great beer does not exist.
There's something for everyone here!
7/14: Sip Happens Sour with Earl Grey Tea & Lemon in cans
7/21: Fancy Pants NEIPA in cans
7/21: Juniperus IPA in cans
8/10: Sip Happens Sour with Earl Grey Tea & Lemon in cans
8/12: Maximum Fruitage Paw Paw in cans on on draft
8/17: Butterfly Kisses
8/18: Right Side of the Tracks NEIPA: once a year release
8/18: Wrong Side of the Tracks Sour with Sweet & Sour Cherries: once a year release
8/31: Eyelash Viper NEIPA in cans
8/31: Hoity Toity NEIPA in cans
9/1: Brand New DIPA - I Gotta Guy
9/14: Zicke Zacke Oktoberfest
9/22: Robe Life DIPA
9/25: BARCStoberfest Special Release
Checkerspot Brewing Company
1399 S. Sharp St., Baltimore, MD 21230
Mailing Address: 175 W. Ostend St., Ste B1
Monday - Wednesday 3 – 8pm
Thursday 3 – 10pm
Fri & Sat 12 - 9pm
Sun: 12 – 7pm
IT DOESN'T GET ANY
FRESHER THAN THIS!

Enjoy a beer at the brewery where it was made