Welcome to Checkerspot Brewing!
Come see the new space at 1421 Ridgely St.
Why the Checkerspot name?
Fun Fact: The Baltimore Checkerspot butterfly is Maryland's state butterfly.
Our namesake embodies our belief that without an appreciation of nature, and local, quality ingredients... great beer cannot exist.
We're proud to bring you an array of small-batch, thoughtfully crafted GLUTEN REDUCED beers–inspired by nature, but served right here in Baltimore-the city we love. There's something for everyone here!
TAPROOM HOURS
Monday - Wednesday: 3 - 9 PM
Thursday: 3 - 10 PM
Friday & Saturday: 12 - 10 PM
Sunday: 12 - 8 PM
Food
Our kitchen is open starting Wednesday, October 4th, Wednesday- Sundays from open-8PM. You may order delivery or bring in your own food until then.
Pop-ups:
9/28 Ekiben 4-8PM
9/29 Village Shoppe 2-7PM
9/30 Key Neapolitan Verde 4-8PM
10/1 Village Shoppe 12-4PM
Parking
Parking will be available along Ridgely St, Alluvion St, and lot O of M&T Bank Stadium.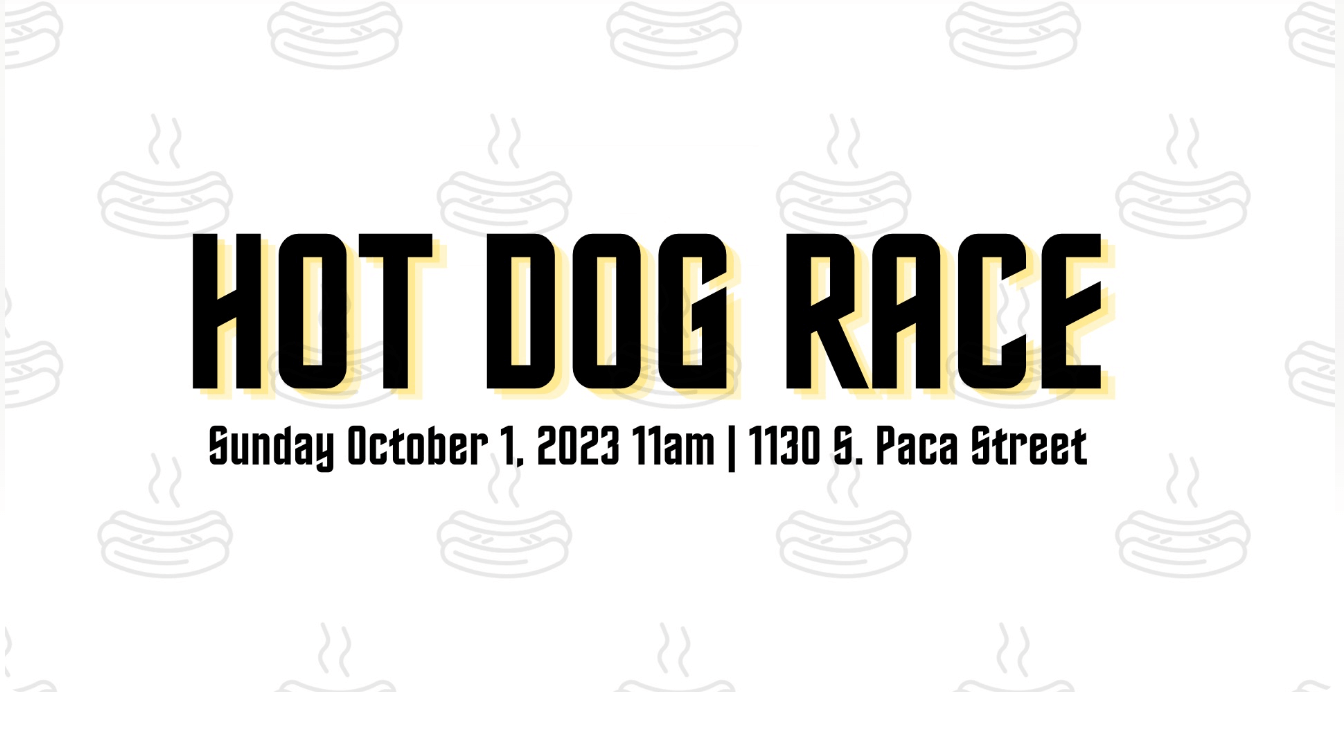 Hot Dog Race
Sunday, October 1st
11-2 PM
Join the South Baltimore Brewery District for a real life Hot Dog Race to celebrate the last regular season game and heading into post-season baseball. Hot dogs sponsored by Checkerspot, Pickett and Wico.
Checkerspot will proudly be in green representing Team Relish. Come in green and watch the race in Emergent BioSoultions fenced parking lot (left of Pickett).
Race starts at 11:30AM. Beers and socializing at 12PM.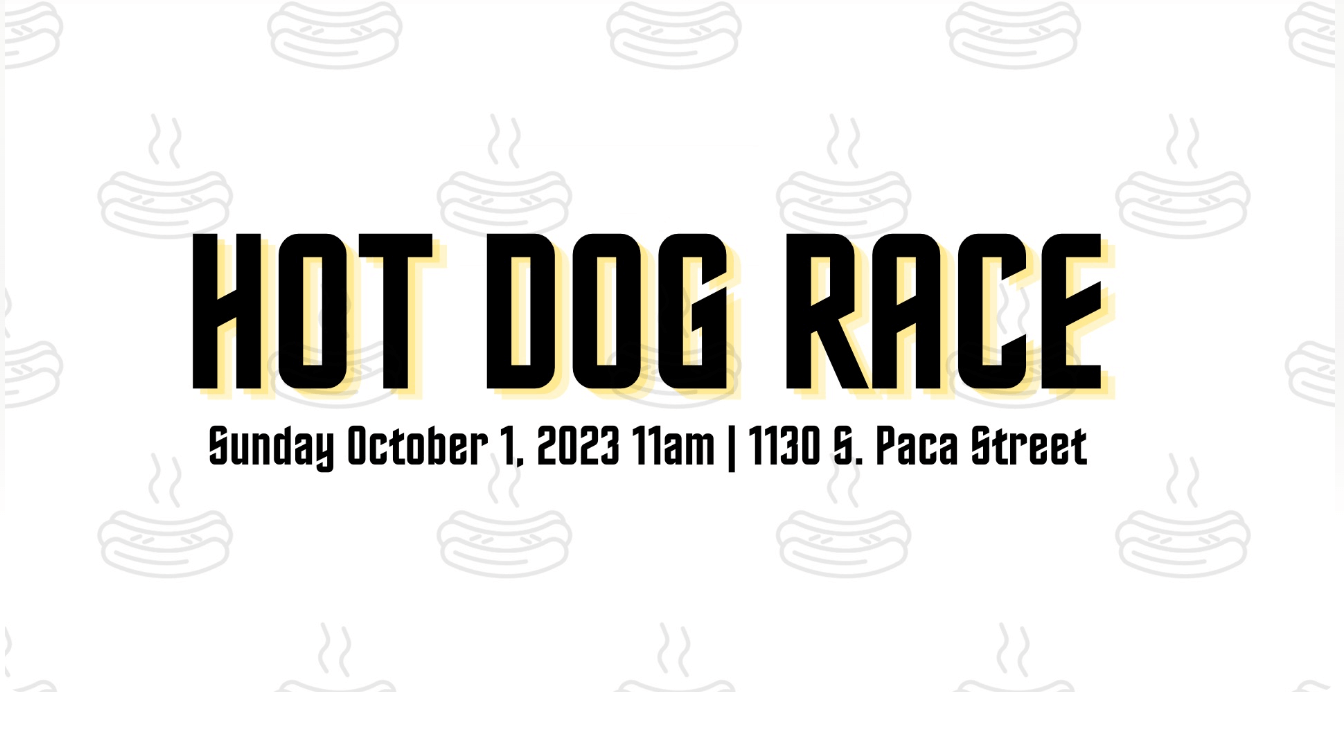 On The Verge Podcast
Monday, October 2nd
5:30-7:30PM
LIVE SHOW! On the Verge is Baltimore Sports and Life's Orioles minor league podcast hosted by Zach Spedden, Nick Stevens, and Bob Phelan.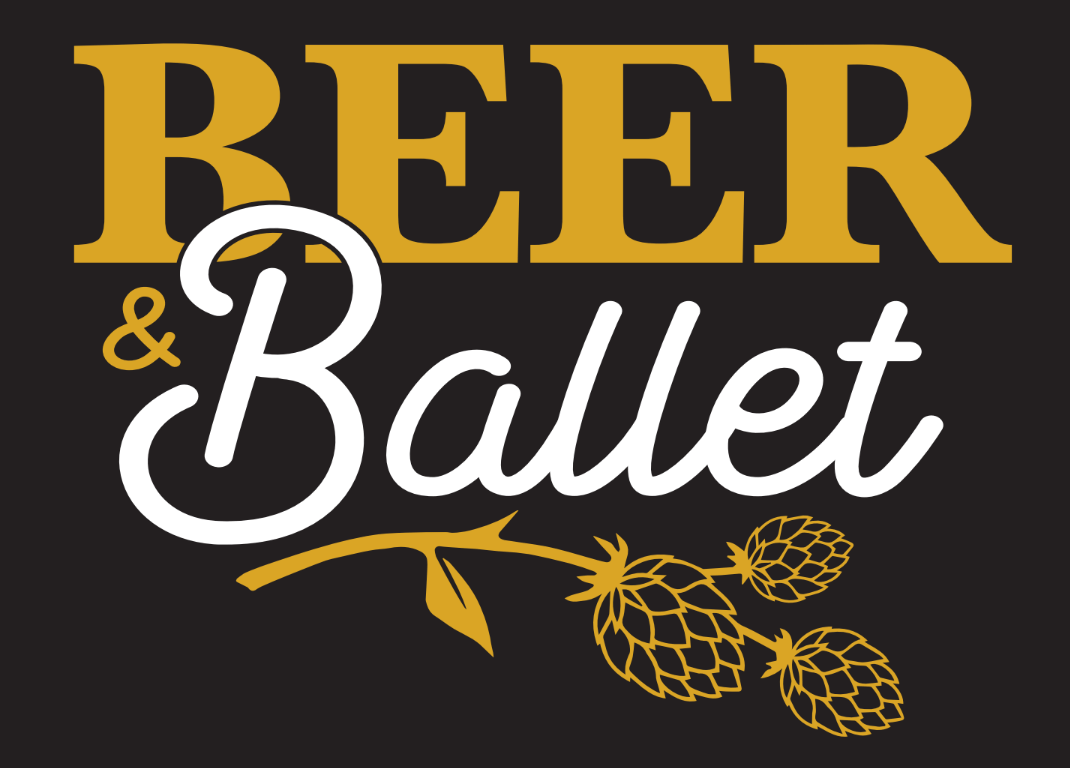 Beer & Ballet
Wednesday, October 4th
7-8PM
Dancing to 80's and 90's music, students will participate in an hour-long ballet barre class which occurs at a brewery. The class will then concentrate on anatomical position, movement therapy, and beginning to intermediate ballet training.
There is always an "After Class Hangout" where participants are invited to stay at the brewery to meet new people, talk about class, chat about the brews they are enjoying, and experience a new community.
Tickets Here: https://amberdaniels.net/beer-and-ballet#/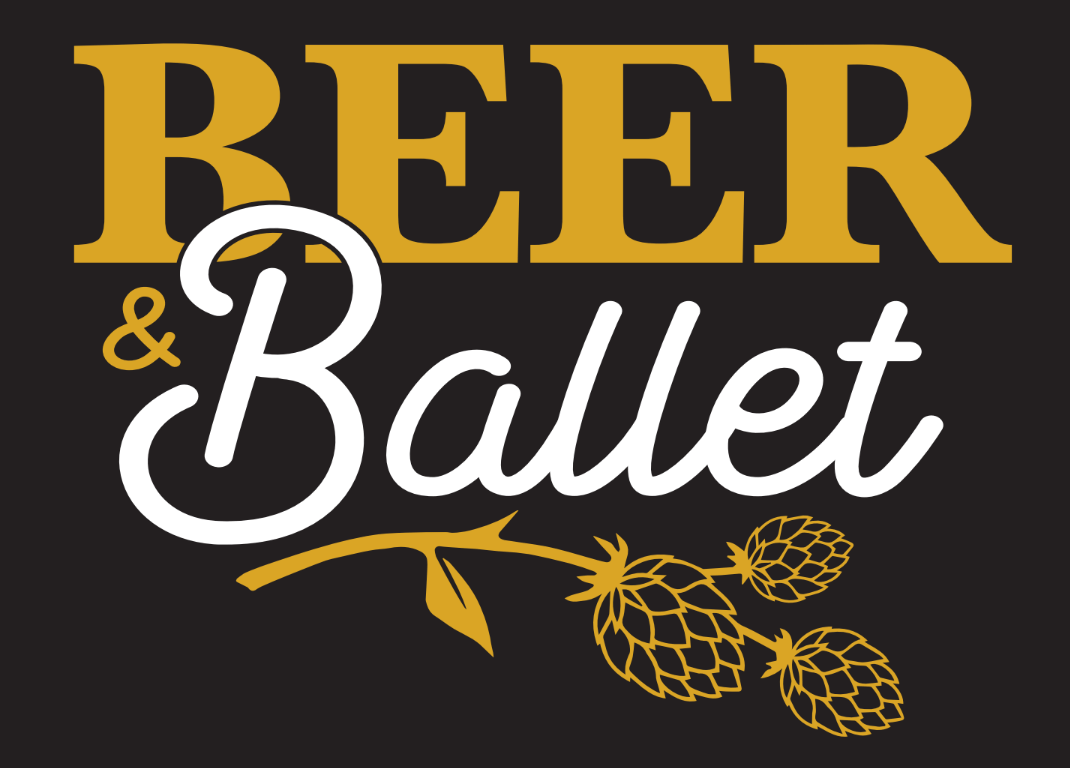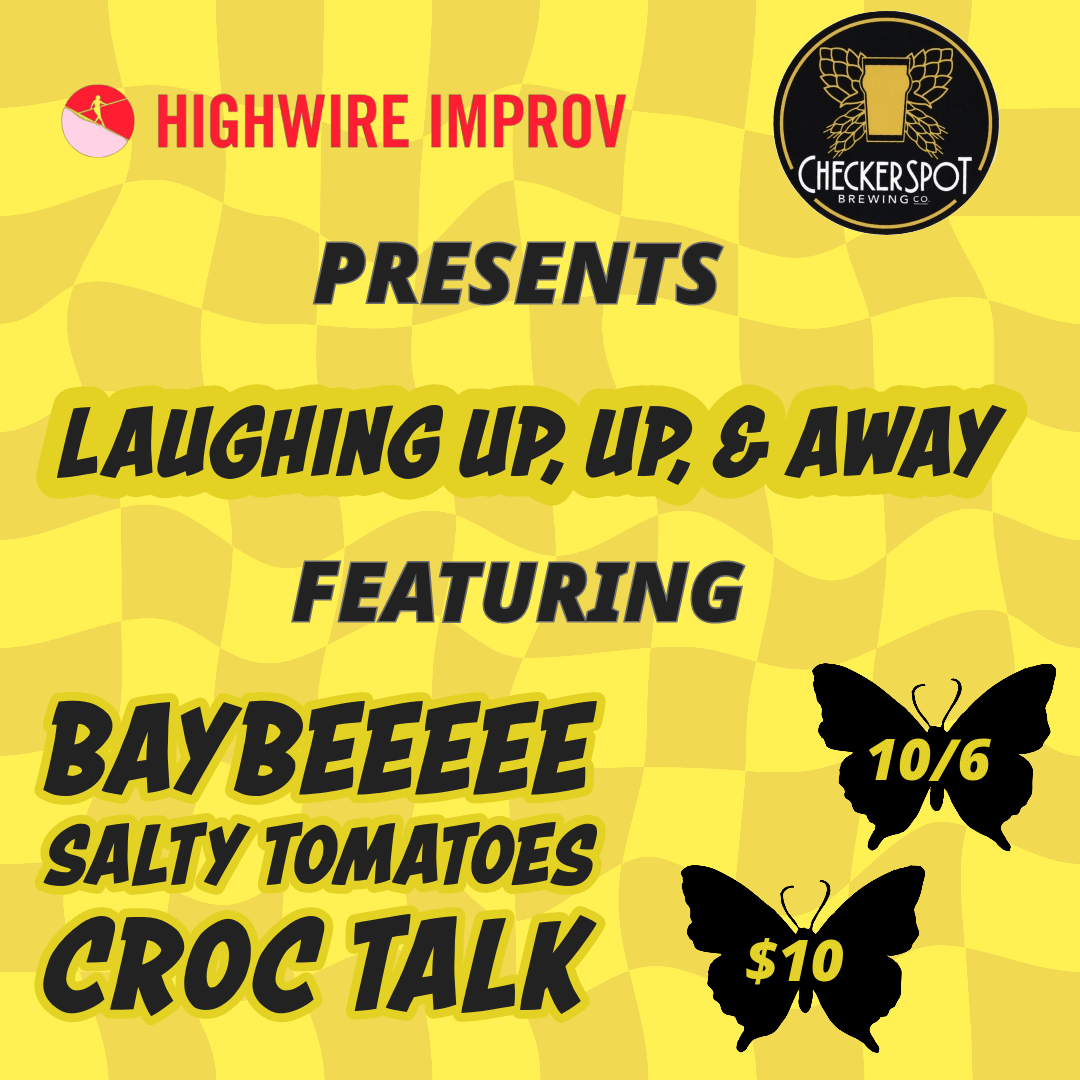 Laughing Up, Up, and Away Comedy Night
Friday, October 4th
7-9 PM
The laughs and the bubbles will be floating up at Checkerspot Brewing as Highwire Improv returns with a great night of comedy! You'll get to see three amazing ensembles bring you live comedy entertainment that's more interesting, exciting, and unpredictable than anything you'd find on streaming services!
Improv comedy is made up completely on the spot - watch in awe as performers create brand new worlds with rich and absurd characters, hilarious scenarios, and tons of jokes.
About the Acts:
BaybEEEEEEEE is a powerhouse team that pushes the limits of what improv comedy can do through the power of friendship and absurdity.
Salty Tomatoes is a former Conservatory team from the Baltimore Improv Group who couldn't get enough of performing together – they'll bring you fresh ideas and a little salt with that comedy!
Croc Talk is a house team of the Lou Costello Room and brings you super high-energy improv with dynamic characters, wild situations and lots of laughter.
About Highwire Improv:
Highwire Improv's mission is to steward a community of artists committed to growth, collaboration, joy, and justice — in Baltimore and around the world — through improvisational theater.
Use code PIGTOWN for 15% off off your tickets
Tickets Here: https://www.eventbrite.com/e/laughing-up-up-and-away-comedy-show-at-checkerspot-brewing-tickets-706291154857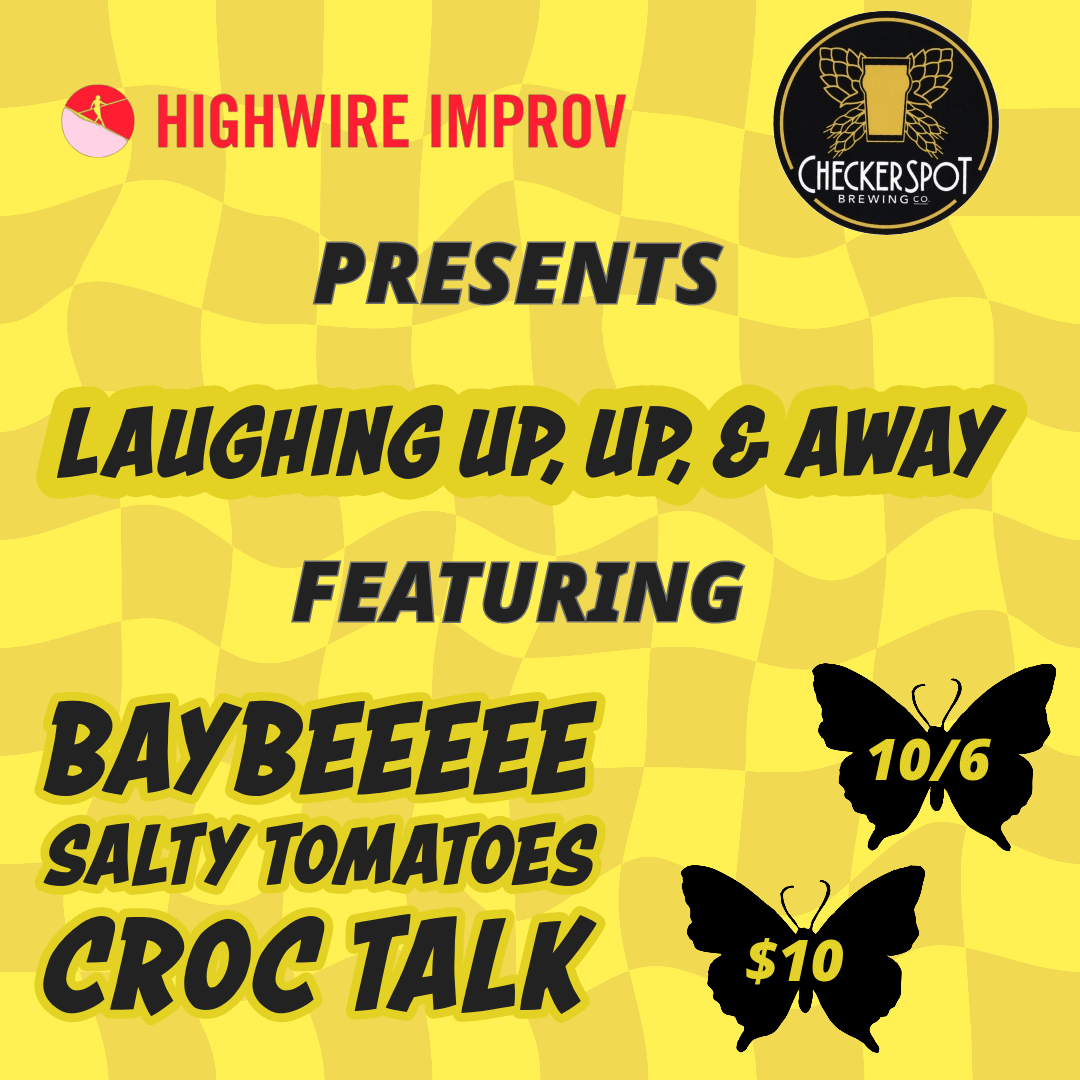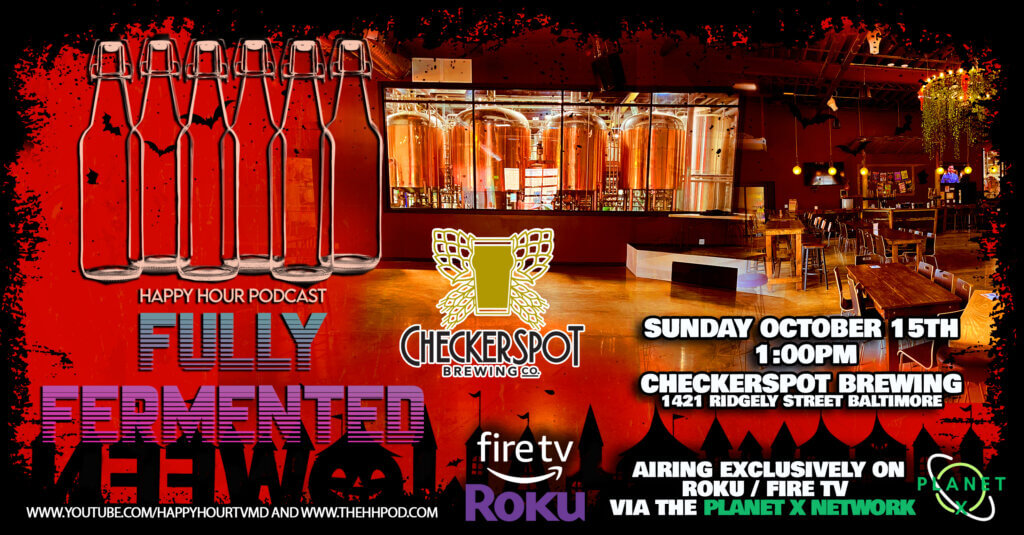 The Happy Hour Podcast
Sunday, October 15th
1-2 PM
The HHPod started in 2020 in the midst of the pandemic by Ray & Matt who are the normal weekly hosts of The HHPod. Ray a retired professional wrestler of 20 plus years got bored and decide to resurrect the tv show he had for a little while but as a podcast. Matt who has been a good friend for over 20 plus years came along for the ride. Later, Comedian Tom Nutty joined the bunch to have 3 regular hosts.
With the idea of "let's just invite some really cool people to hangout and talk about whatever". They have had guests from every walk of life on our show and we are 100% unpredictable each and every week.
The HHPod was named 2022 Hollywood Digest Elite Best Of the Best for Podcasts AND 2023 Best Adult Podcast nominee from the 2023 AVN Awards.
"This definitely isn't your momma's podcast, we are 100% mature audiences only baby!"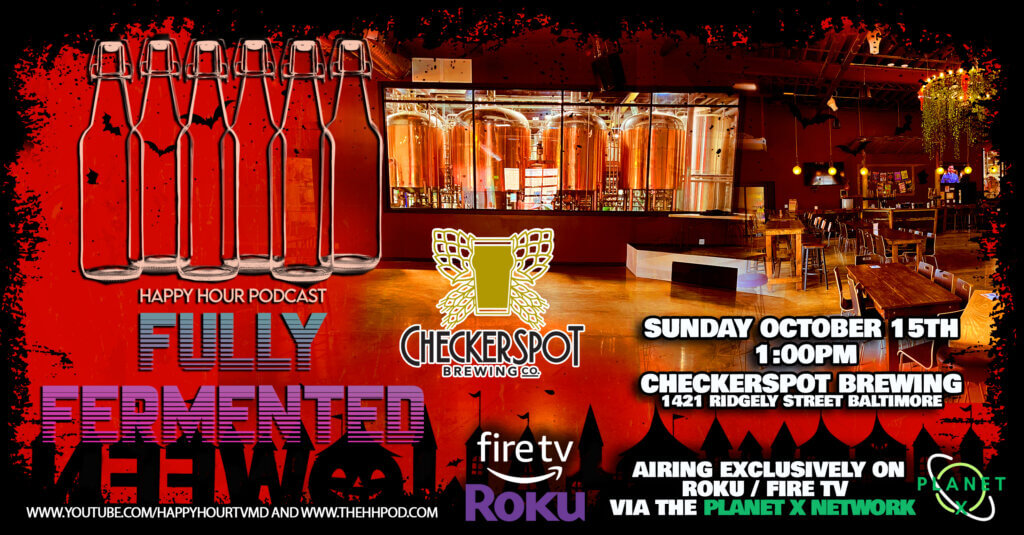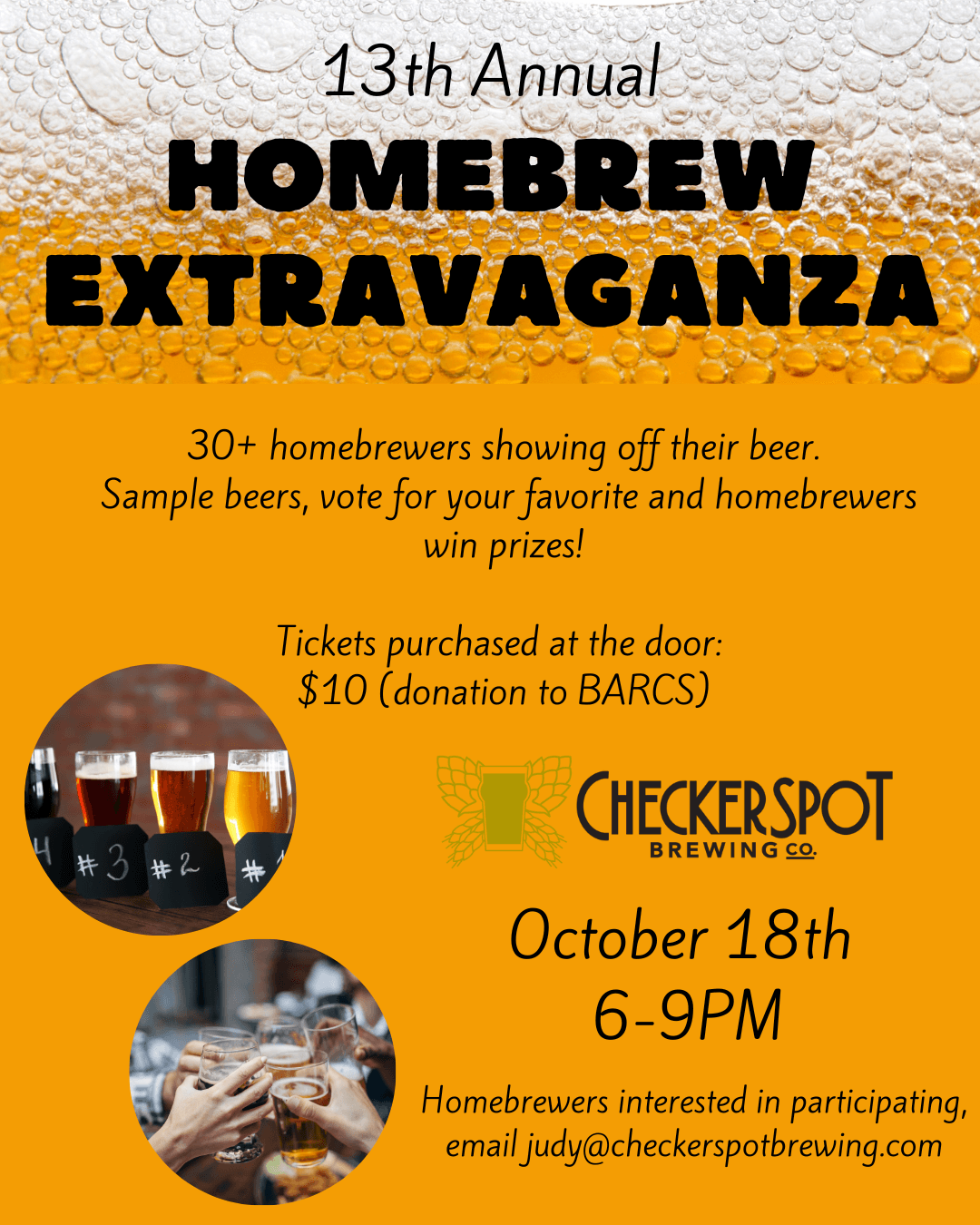 Homebrew Extravaganza
Wednesday, October 18th
6-9PM 
Come to our Homebrew Extravaganza to taste 30+ beers from local homebrewers. To attend, tickets are $10 which will be donated to BARCS. Interested homebrewers please email judy@checkerspotbrewing.com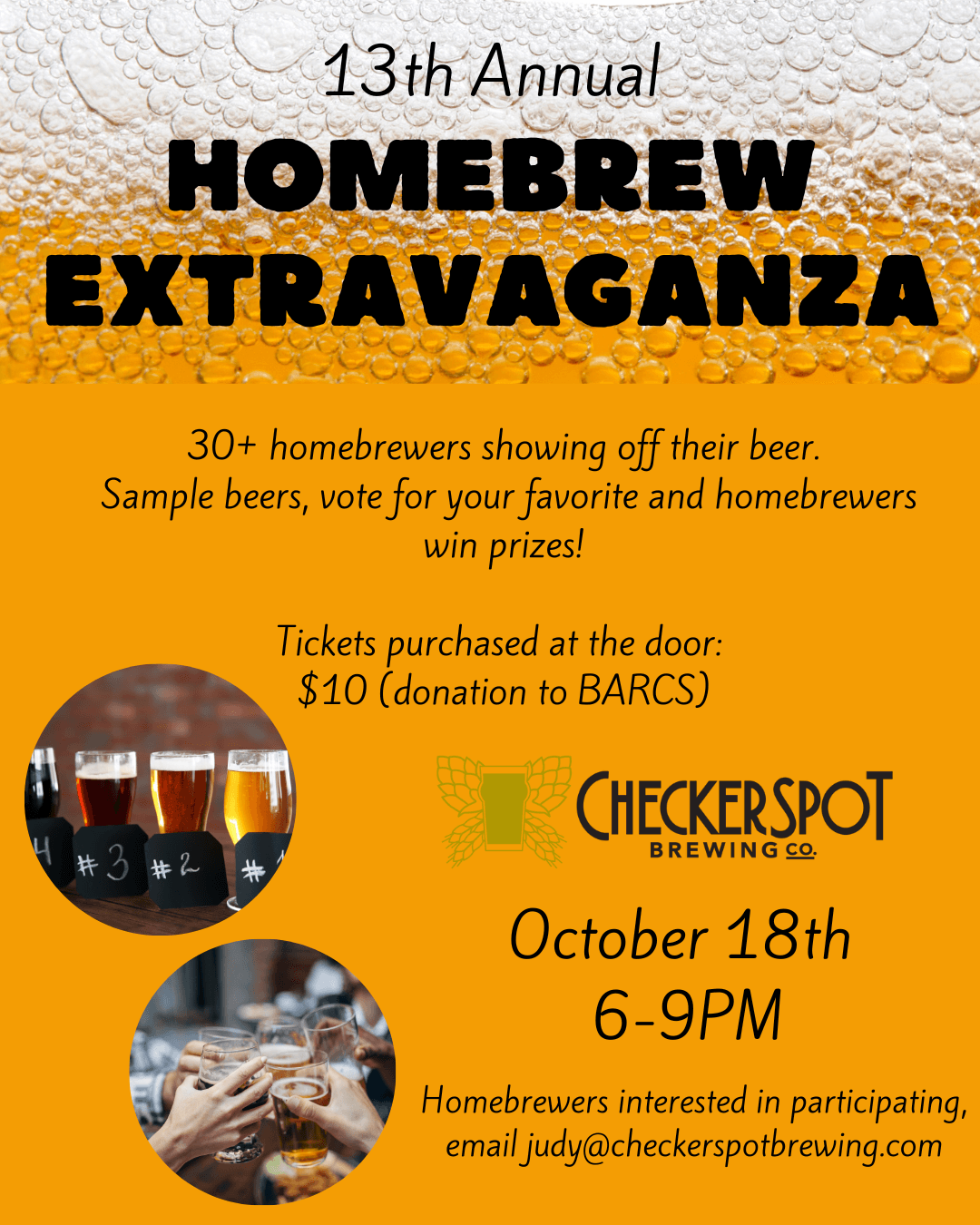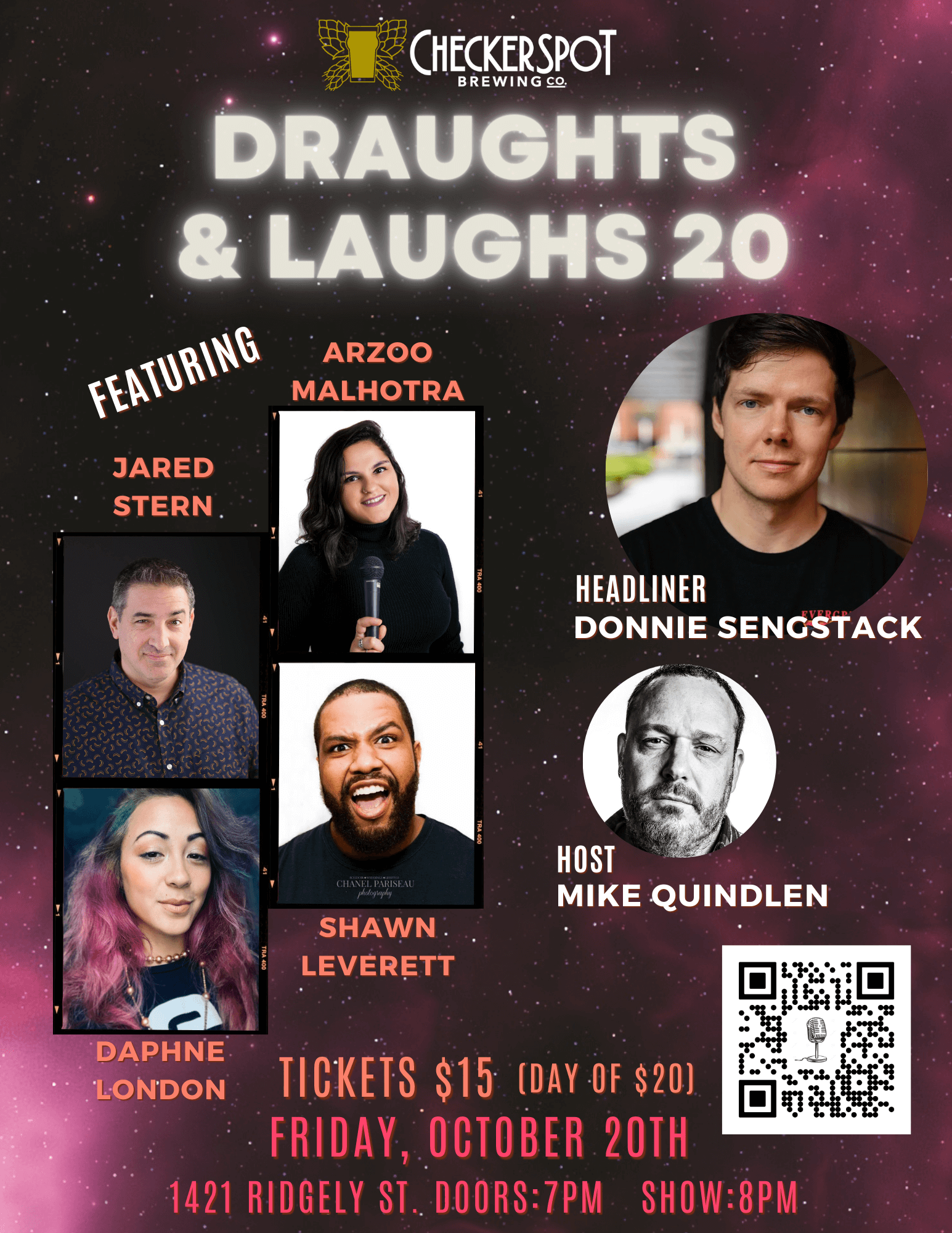 Laughs & Draughts 20th Show
Friday, October 20th
8-10PM
Celebrating Draughts and Laughs 20th show!
Headliner, Donnie Sengstack, began his comedy career in Baltimore and DC where he gained recognition and a plethora of awards. Now Sengstack is headlining at the top comedy clubs in NYC, appearing on major streaming platforms like Peacock, and performing at major comedy festivals around the country. He recently toured the UK, France, and Spain and has opened for many national headliners here in the US like Nate Bargatze, Howie Mandel, Tiffany Haddish, Michael Che, Dave Attell, Mike Birbiglia, Brad Williams, and many more.
Featured comedians include, Arzoo Malhotra, Jared Stern, Shawn Leverett, Daphne Londo, and host, Mike Quindlen, founder and creative director of the Ellicott Silly Comedy Festival.
Show seating & Pre Show HappyHour begins at 7PM. Show Time is 8:00PM.
Tickets: $15 until 11:59pm on 10/19/23; $20 day of (cash or venmo only).
https://www.eventbrite.com/e/draughts-laughs-20-at-checkerspot-brewing-w-headliner-donnie-sengstack-tickets-687816416417?aff=oddtdtcreator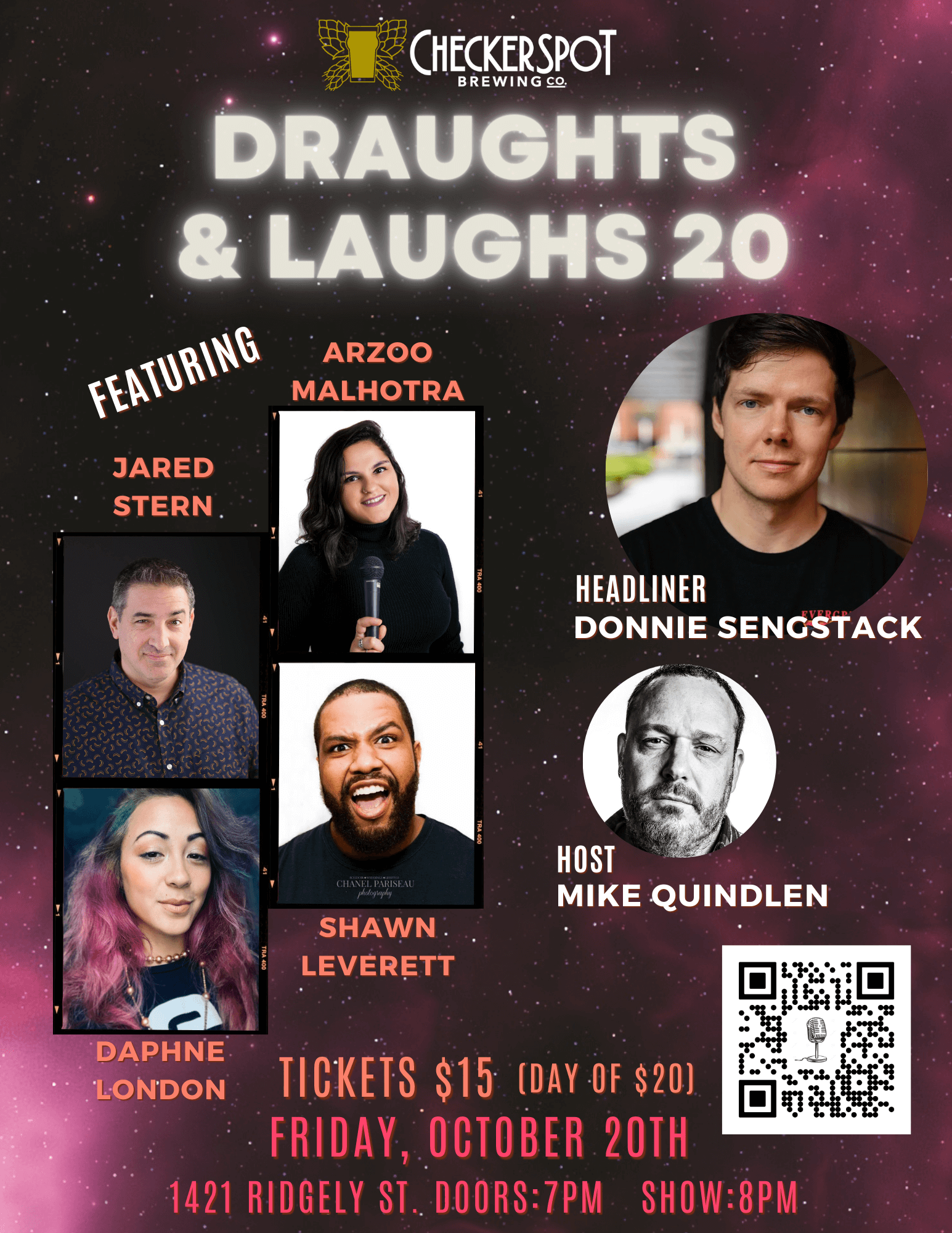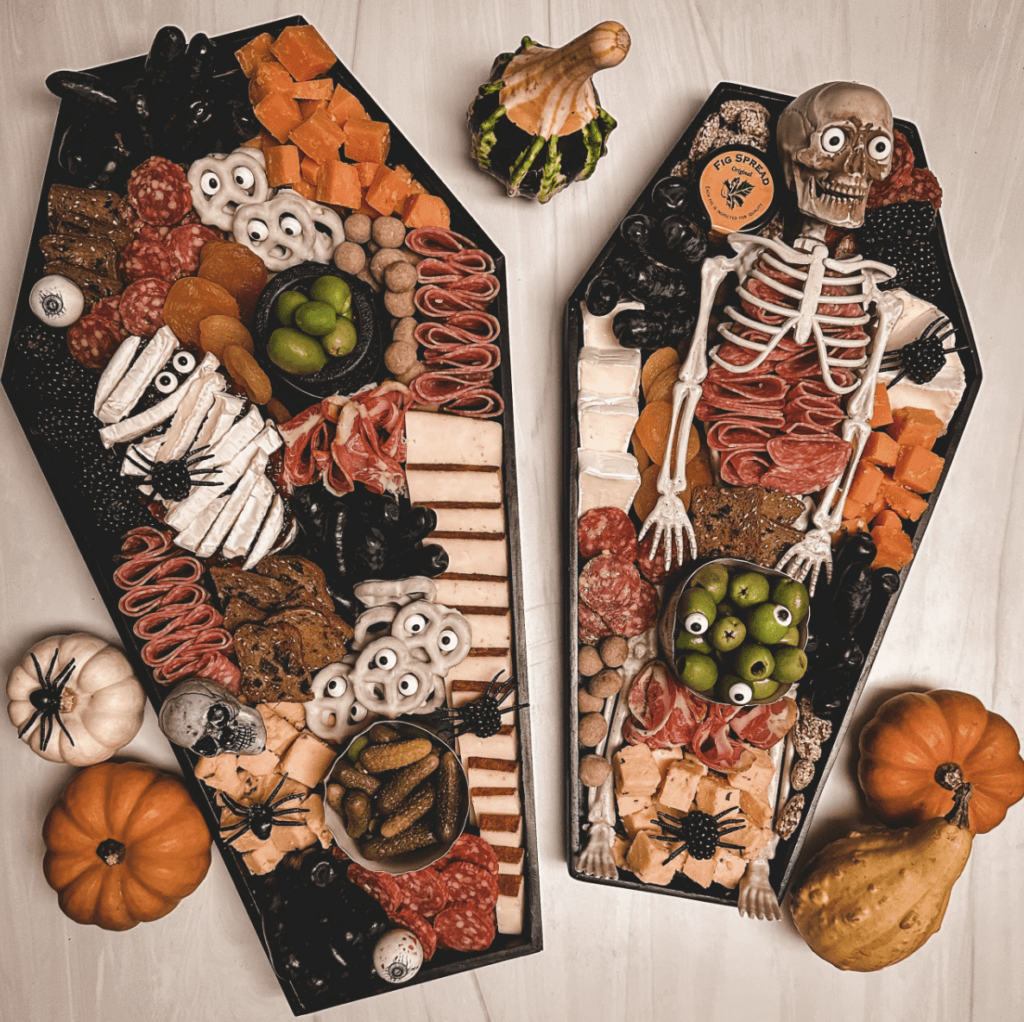 Charcuterie Board Workshop
Saturday, October 28th
12-2PM
Join Boards in a Box at Checkerspot Brewing Company for a Halloween Coffin themed build your own charcuterie board workshop!! These coffin boards were such a hit around Halloween last year that this year we have decided to host a workshop with them!! These would be perfect to take to your Saturday Night Halloween Party!
The event will be approximately 1.5-2 hours in length
Since this event includes the specialized coffin boards. Ticket sales will close October 15th.
Tickets include:
A 16 or 19 inch reusable coffin tray
3-4 cheeses
1-2 charcuterie meats
Sweet & savory accompaniments
Extra Halloween themed add on's for your board
First beer for each participant
Cheese tasting at the beginning of class
45 minute hands on demonstration to build the perfect Halloween Coffin Board
Small Coffin - measures 16 inches long - feeds approximately 8 people
Large coffin - measures 19 inches long - feeds approximately 10-12 people
Tickets Here:
https://www.boardsinabox.com/events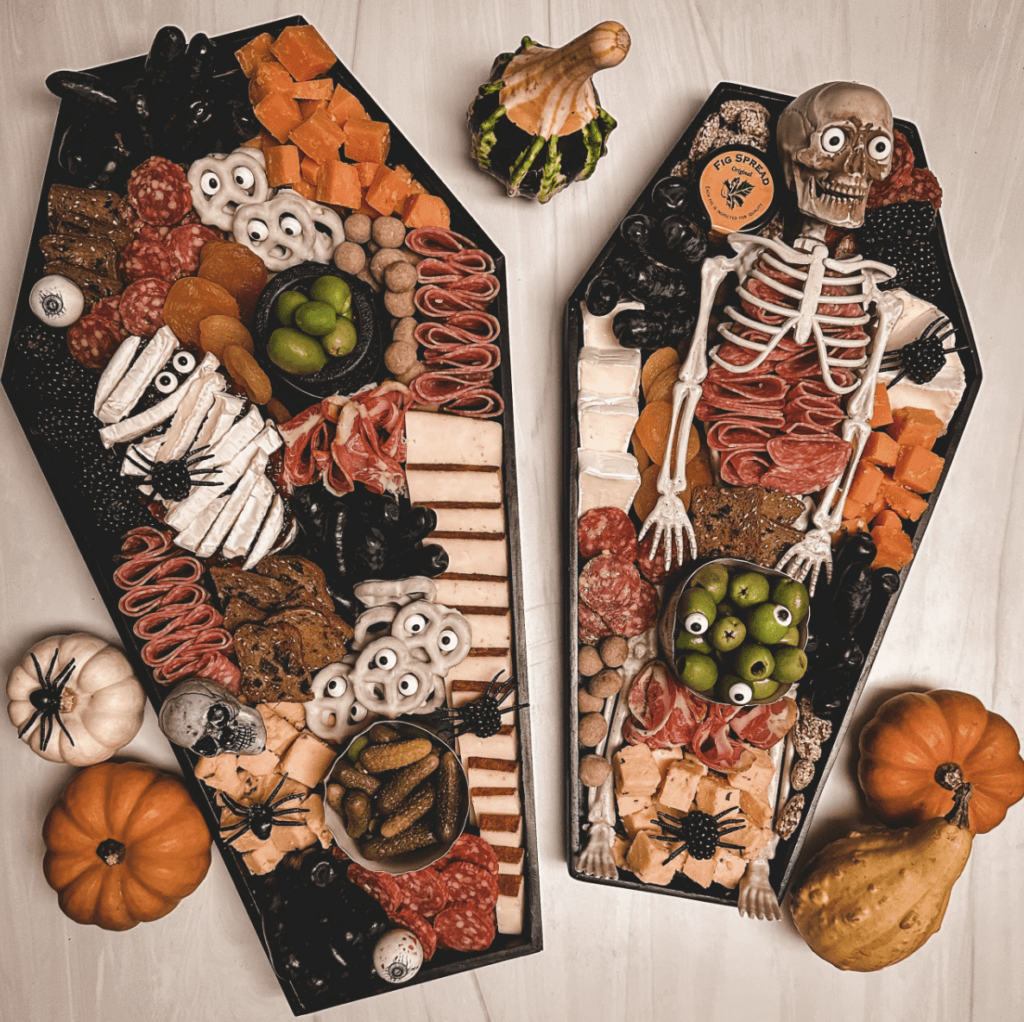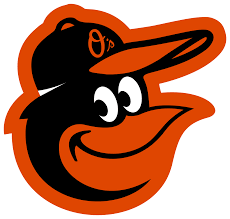 O's are heading to playoffs!
Orioles are heading to playoffs!
Come to Checkerspot for all of your pre and post game fun! The games will always be on TV.
Selling Cedric Mullins "CedgeHammer" t-shirts to support Mullin's diagnosis of Crohn's disease- $20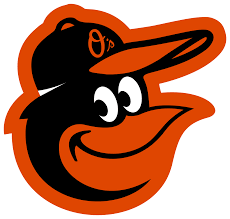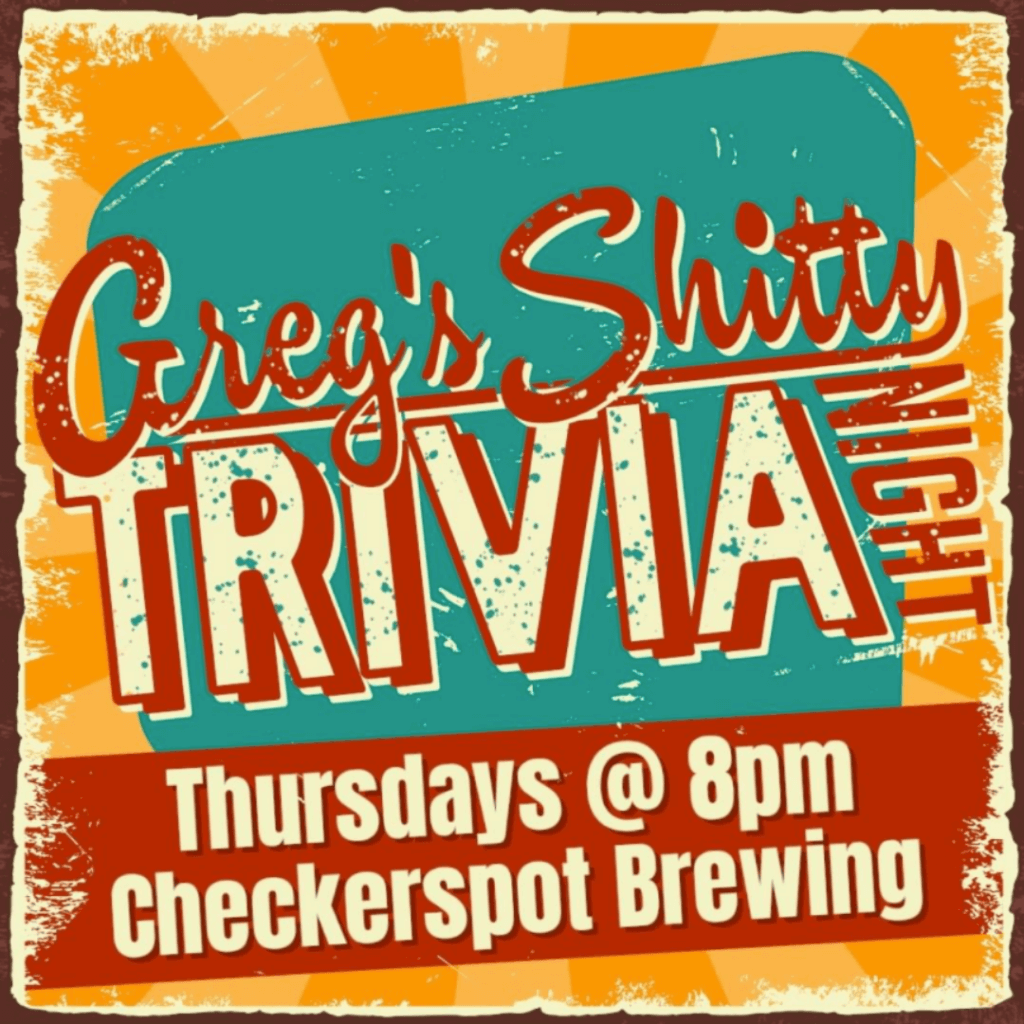 Greg's Shitty Trivia
Greg's Shitty Trivia is in the house every Thursday, serving you some of the funniest, craziest trivia in town!
Games start at 8 PM. Tables and chairs are first-come, first-served.
For more of Greg's events and trivia nights, visit www.GregsShittyTrivia.com.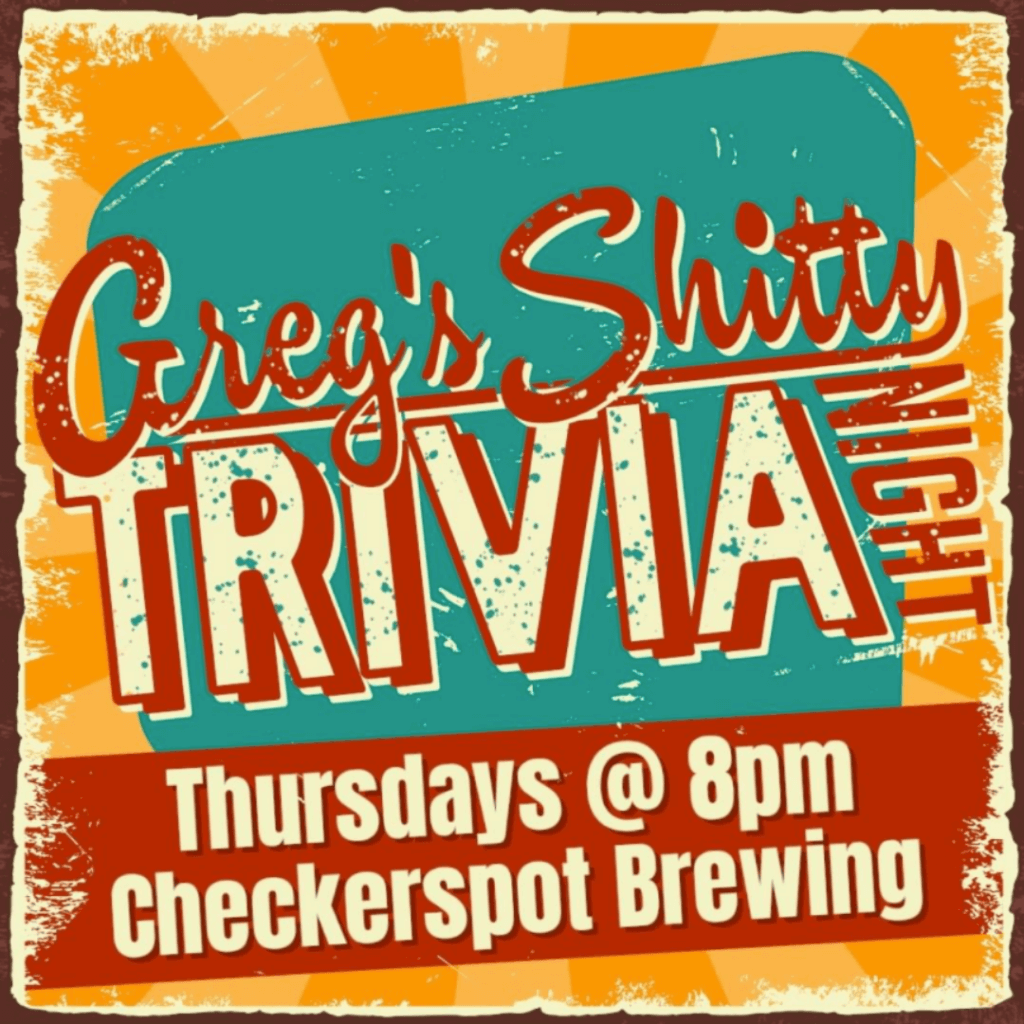 UPCOMING BEER RELEASES
Just released - Totality Imperial Stout aged in Sagamore Rye Barrels. Bottles and other barrels will be coming soon! 
Sept 28: Eyelash Viper NEIPA
Oct 4: Invisible Pink Unicorn NEIPA
Oct 24: Megamaroo "Down Under" NEIPA w/ Australian & New Zealand hops
Nov 1: Still a Hero Porter - a historical collaboration with Maureen O'Prey
Nov 11: Daily Dose of Freedom IPA - a very special fundraiser
Checkerspot Events & Specials
Get notified about our beer releases, specials, and upcoming events!
HOST YOUR EVENT AT CHECKERSPOT!
Book event space at Checkerspot to host your next business meeting, anniversary party, birthday party, wedding, rehearsal dinner, team building event, gender reveal, holiday party, fundraiser, etc. Whatever you dream up, we can do!
Contact Denis for more information at denis@checkerspotbrewing.com.