Checkerspot Events & Specials
Get notified on our weekly specials and beer events!
3 YEAR ANNIVERSARY: Saturday June 19 @ 1 PM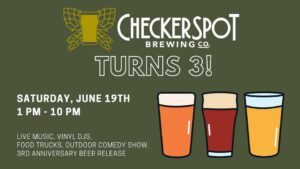 Join us in celebrating the third anniversary of Checkerspot Brewing!
We've been waiting for so long to safely partake in summertime festivities with our valued patrons, partners, friends, and family.
Thank you for helping get us through a crazy 14 months of pivoting, problem solving, and precautions. We couldn't have done it without your support.
We've great a great line-up of events, featuring some of the best in Baltimore:
SCHEDULE OF EVENTS:
1:00 – 2:00: ADAM MILLER OF THE RACKET
2:00 – 3:00: BRENDAN FINNERTY FROM IDLE HOUR
3:00 – 4:00: DJ ES
4:00 – 5:30: THE SHRAPNELS
5:30 – 6:30: DJ DOUBLE A
8:00 - 10 PM: DRAUGHTS & LAUGHS 8 COMEDY SHOW (Ticketed)
The Gypsy Queen food truck will also be on site to provide you will some tasty eats.
Swing by and cheers a beer to us turning 3!
DRAUGHTS & LAUGHS COMEDY: Saturday June 19 @ 8 PM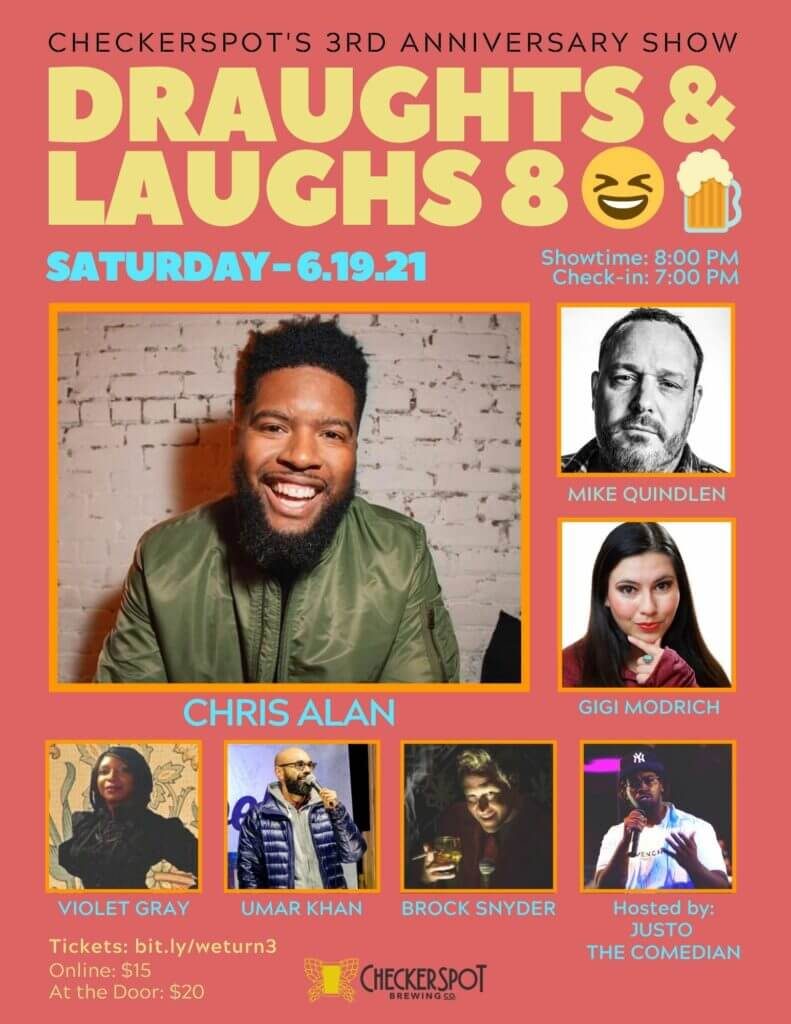 Join us for our popular outdoor comedy series: Draughts & Laughs 8–South Baltimore's best outdoor, socially distant, stand-up comedy show.
This special show is a part of Checkerspot Brewing's third anniversary celebration.
Enjoy live bands, vinyl DJs, and food trucks during the day and a spectacular comedy show at night! The festivities kick off at 1 PM.
Tickets are $15 in advance or can be purchased at the door for $20.*
Get your tickets here: http://bit.ly/weturn3
The show will take place outside of the brewery.
Bring your own chairs and tables, spread out, and set up wherever you'd like. (We will be practicing social distancing.)
Show time is 8 PM. Show seating will begin at 7 PM.
Enjoy a variety of local craft beer. We also have food available! Masks are required to order inside the taproom.
Free street parking is also available.
*All sales are final and refunds will only be issued if the event is cancelled.
Rain Date: Saturday, June 26th. All weather decision relative to postponement to the rain date will be made by 5:30PM on day of the event.
THE FATHER OF ALL DAYS: Sunday June 20 ALL DAY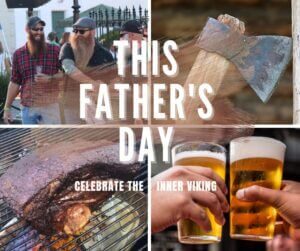 We are ready to celebrate the inner viking in all of us. Join Checkerspot Brewing as we host one awesome Sunday Funday while raising funds for the Ulman Foundation via Sheer the BEER'D.
Food Pop Up from BarberQ, Axe throwing with Odyssey Mobile Events, Beard Contest, special release lingonberry wit beer with Pipe the Side Brewing and MORE!
The brewery that raises the most funds gets to shave that thing off Brandon Skillman's face.
TRIVIA: EVERY THURSDAY @ 8 PM
Greg's Shitty Trivia will be here every Thursday. Games start at 8 PM. Tables and chairs are first-come, first-served.
Stay tuned to Checkerspot's Facebook or Instagram each week to see whether it's inside or outside.
For more info, visit www.GregsShittyTrivia.com.
In this Class, Teaching Artist Angela Gonzales will incorporate Latin dance steps into an exhilarating and fun workout – all the while moving to the music. Bring Yoga mat for stretching.
Comfortable Clothing & Shoes
$15 Includes (Class & a 1 beer)Tickets must be purchase 48 hours before event. Tickets HERE
Here at Checkerspot, our top priority is the health and safety of our customers, co-workers and community. We are open for indoor and outdoor seating and there is plenty of space outside to spread out, socially distance and enjoy some beers in the shade and fresh air out front or across the street under 395.
Indoor seating is now available at 100% capacity on the 1st & 2nd floors. Please ask the bartender for a table and we'll take care of you. We do have a big screen and second TV in the upstairs space.
Anyone entering the taproom must wear a face mask unless seated.
We offer pints, cans and crowlers for carryout. If you're looking to fill up a used Checkerspot growler, you will not get your same actual growler back when you come to refill. We will give you a new one that has been thoroughly cleaned and sanitized.
We are dog friendly (must be leashed) and kid friendly (children must be with an adult). No dogs allowed on the 2nd floor.
If you'd like to host an event at Checkerspot, please contact Denis at denis@checkerspotbrewing.com.
We're proud to bring you an array of small-batch, thoughtfully crafted beers–inspired by nature, but served right here in Baltimore, the city we love. We will all get through this together!
The Baltimore Checkerspot is the Maryland state butterfly, which embodies our belief that without local appreciation, nature, and quality ingredients, great beer does not exist.
There's something for everyone here!
5/6: Sip Happens Earl Grey & Lemon Sour on draft
5/12: Robe Life DIPA in cans
5/14: Seltzer in the City: Strawberry Lime On Draft
5/24: 395 Rye Amber Lager on draft
5/26: Eyelash Viper NEIPA in cans
5/28: Hillbilly Gold in cans
6/1: Rockfish Gose in cans - a collaboration Gose brewed with lemon, lime & sea salt, brewed with Canton Crossing Liquors
6/2: Locally Delicious Berry Sour in cans - 100% local
6/2: Stoop Sesh Session IPA in cans
6/8: Psycho Haze NEIPA in cans - special brew once a year!
6/8: Juniperus IPA in cans
6/19: 3 - our 3rd year anniversary Double Honey NEIPA in cans - special release for our anniversary party
6/22: Fancy Pants NEIPA in cans and on draft
6/23: Megamaroo "Down Under" NEIPA in cans
6/24: Sip Happens Earl Grey & Lemon Sour in cans
Checkerspot Brewing Company
1399 S. Sharp St., Baltimore, MD 21230
Mailing Address: 175 W. Ostend St., Ste B1
Monday - Wednesday 3 – 8pm
Thursday 3 – 10pm
Fri & Sat 12 - 9pm
Sun: 12 – 7pm
IT DOESN'T GET ANY
FRESHER THAN THIS!

Enjoy a beer at the brewery where it was made